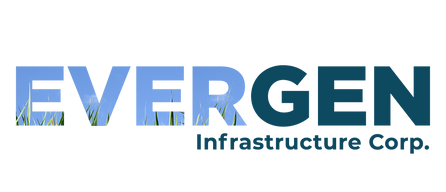 EverGen Infrastructure Corp. (TSX.V: EVGN) (OTCQX: EVGIF)
Investment Considerations
EverGen forecasts EBITDA growth from about C$3 million in 2021 to more than C$12 million in the next 12 months from expansion of core operating assets.
EverGen stock began trading in the U.S. on the OTCQB Venture Market under ticker symbol 'EVGIF' on February 15, 2022.
EverGen has low-risk long term contracted or reoccurring revenue (similar to Large Cap Independent Power Producers), with two revenue sources via RNG sales and organic waste tip-fee contracts providing a high margin business with EBITDA margins of 50-60%.
In its most recent reporting, the company reported gross profit of C$1.58 million on revenue of C$1.95 million for the quarter ended September 30, 2021.
EverGen Infrastructure Corp. (TSX.V: EVGN) (OTCQX: EVGIF) is developing Canada's Renewable Natural Gas Infrastructure Platform, starting on the west coast in British Columbia. The company is combating climate change and helping communities contribute to a sustainable future by acquiring, developing, building, owning and operating a portfolio of renewable natural gas (RNG), waste-to-energy, and related infrastructure projects.
While EverGen is currently focused on British Columbia, its continued growth is expected across other regions of North America. RNG is produced differently than conventional natural gas, without drilling wells. RNG is derived from biogas, which is captured from decomposing organic waste in landfills, food waste, agricultural waste matter and wastewater from treatment facilities. This waste feedstock is supplied to an anaerobic digester which contains bacteria that breaks down organic matter in the absence of oxygen. The resulting biogas is captured and cleaned to create carbon neutral or carbon negative RNG to be used by the existing North American gas pipeline grid. By capturing these emissions and transforming them into RNG, then combusting into CO2, the overall greenhouse gases (GHG) impact is materially less potent than allowing natural decomposition to release methane into the atmosphere. Liquid and solid digestate matter is a byproduct of the RNG production process and is used as fertilizer and in other applications.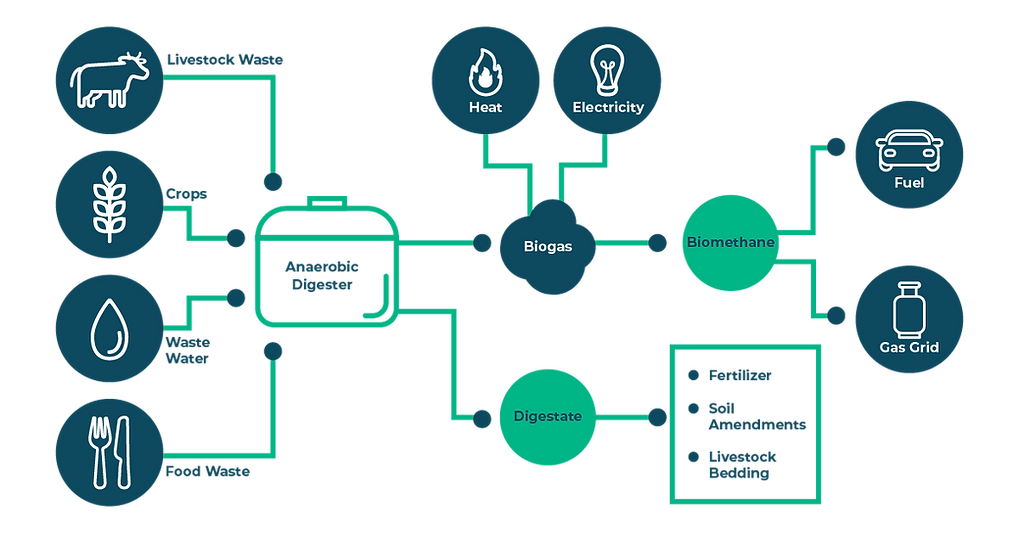 EverGen operates three projects in British Columbia. The company was incorporated in 2020 and went public in 2021, with its common shares listed on the TSX Venture Exchange under ticker symbol 'EVGN'. In February 2022, EverGen's common shares began trading on the OTCQB Venture Market in the U.S. under ticker symbol 'EVGIF'. The company is headquartered in Vancouver.
Portfolio Projects
Fraser Valley Biogas is one of three projects in EverGen's portfolio. Located in Abbotsford, British Columbia, the facility has been digesting manure and off-farm organics since 2011 and was the first agricultural digester in Canada to produce RNG. The RNG generated through this project is part of a FortisBC program to supply renewable gas to homes, businesses and other customers. Fraser Valley Biogas also provides Abbotsford farms with renewable fertilizer via the digestate produced. EverGen acquired Fraser Valley Biogas early in 2021 and is currently enhancing and expanding the facility. These optimization projects resulted in record production during the month of September 2021, supporting the growing demand for RNG in British Columbia. Optimization activities contributed an additional 18% of RNG production for September and a 9% higher year-to-date production compared to the previous year. The facility produces approximately 80,000 gigajoules of RNG, enough to heat more than 1,000 homes for a year.
Net Zero Waste Abbotsford, a wholly owned EverGen subsidiary and portfolio project, is an existing composting and organic processing facility and RNG expansion project. The British Columbia Utilities Commission recently approved a 20-year offtake agreement between the facility and FortisBC, an electricity and gas utility. Under this agreement, FortisBC will purchase up to 173,000 gigajoules of RNG annually for injection into its natural gas system upon completion of an anaerobic digester project at Net Zero Waste Abbotsford. Once construction is complete, this project is expected to produce enough energy to meet the needs of more than 1,900 homes.
Sea to Sky Soils, a wholly owned EverGen subsidiary and portfolio project, is an existing composting and organic processing facility and potential future RNG expansion project which has been operating near Pemberton, British Columbia, on Lil'wat Nation land since 2012. The Lil'wat Nation is a key partner and supporter of the facility, which has employed a majority of its staff from the First Nation since inception. The Sea to Sky Soils facility processed approximately 160 percent of its forecast tonnage in the second half of 2021. In total, Sea to Sky Soils processed approximately 36,000 tons of organic waste in 2021. The facility is working with the Ministry of Environment to expand its operational capacity in 2022. EverGen has partnered with local municipalities – including Metro Vancouver and the municipality of Pemberton – for the delivery of additional organic waste to the facility. The facility is an important part of EverGen's RNG infrastructure platform and serves as a source of valuable feedstock to support the company's existing and future operations.
Market Outlook
A report from Global Market Insights states that the biogas market is projected to see significant growth over the next few years, driven by a shifting preference to utilize biogas to reduce emission levels from traditional fuels. Escalating RNG usage by gas utilities as a sustainable and low carbon alternative to supply heat and electricity in industries and buildings will further stimulate growth. RNG is increasingly deployed across the transport sector, especially for heavy vehicles and vessels, to abate GHG emissions.
Many North American gas utilities have set RNG targets of 5% to 15% of production by volume in 2030, compared to less than 1% by volume in 2020. FortisBC has a goal of including 15% RNG in its gas supply by 2030. EverGen believes this presents a potential C$16 billion+ opportunity for RNG producers.
Management Team
Chase Edgelow is co-founder and CEO at EverGen. He has over 15 years of specialized private investment, finance, and technical expertise in the energy and infrastructure sectors. His background is as a Facilities Engineer with Petro-Canada, independently managing energy infrastructure capital projects located in western Canada. He holds a Professional Engineer designation from the province of Alberta.
Mischa Zajtmann is co-founder and President at Evergen. He has 15 years of experience providing consulting and management for Canadian and American companies in the natural resources and energy space. He is a corporate securities lawyer who began his career at Blake, Cassels & Graydon LLP. His J.D. is from the University of Saskatchewan Law School. He's a member of the British Columbia Bar.
Sean Mezei is COO at EverGen. He has 20 years of experience in the RNG industry, having served previously as the president of Greenlane Biogas and as a senior manager at QuestAir, and founder and president of Dekany Consulting. He was a co-chairman of the American Biogas Council's RNG working group for six years. He has been a Registered Professional Engineer in the province of British Columbia since 1994.
Natasha Monk is CFO at EverGen. She is a CPA with 12 years accounting, financial reporting, and tax experience in public practice and industry. She is currently a partner at Affirm LLP, where she advises and consults to a wide variety of companies in multiple industries across public and private sectors. Prior to joining EverGen, she worked at KPMG. She graduated from the University of Calgary.
Additional Resources