Approximately 200,000 commercial and industrial properties need retrofit each year to comply with the timeline for the established 2050 carbon goals
As sales transactions increase (sales transactions totaled $809 billion in 2021) in the commercial real estate industry, there is a higher demand for clean energy solutions
Correlate Infrastructure Partners Inc. offers a complete suite of proprietary clean energy assessment solutions and a finance platform to reduce site-specific energy consumption and deploy clean energy solutions for commercial real estate properties
The renewable energy market is expected to reach $1,977.6 billion by 2030, growing at a CAGR of 8.7% over the forecast period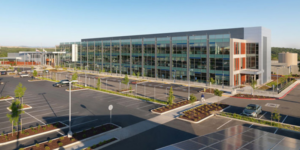 Environmental, social, and governance ("ESG") norms have become an immediate focus for real estate assets, including monitoring and improving indoor air quality. However, one challenge the industry faces is building the ROI for technology beyond energy savings. While energy savings are easily quantified, smart building technology delivers numerous benefits, including reduced maintenance costs, improved comfort and productivity, and improved equipment performance. While most technological decisions are made at the executive level, it is critical to look at the whole model, specifically how it affects the end-user. In most circumstances, while skepticism of new technology implementation will exist, there is a much higher acceptance when the process is done using the end-user in mind.
According to Real Capital Analytics, sales transactions for commercial real estate in 2021 totaled $809 billion. This was double the amount reported in 2020, with investors targeting more favorable asset classes in the wake of the pandemic. As this "boom" continues, the primary focus has been on warehouses and logistics properties (https://ibn.fm/uyC52).
For the United States to reach the carbon goals established by 2050, approximately 200,000 commercial buildings will require retrofitting every year until then to be compliant. Correlate Infrastructure Partners (OTCQB: CIPI) offers a complete suite of proprietary clean energy assessment solutions for the commercial real estate industry. The company is currently at the forefront of creating industry-leading energy solutions and financing platforms for the commercial and industrial sectors. The company sees the need and market opportunity to reduce site-specific energy consumption and deploy clean energy solutions at scale.
Correlate Infrastructure's subsidiaries, Correlate and Solar Site Design, collectively share the mission that scaling distributed clean energy solutions is critical in mitigating climate change effects. Correlate was founded in 2015 and is a portfolio-scale development and finance platform that offers commercial and industrial sectors access to clean energy solutions focused on locally-sited solar, energy storage, EV infrastructure, and intelligent efficiency solutions. Solar Site Design was founded in 2013 and is a US Department of Energy Sunshot Catalyst winner providing customer acquisition and project development tools for commercial solar energy. Solar Site Design's platform gives commercial and industrial property owners access to the best price for implementing a commercial solar system.
The company is leveraging growth opportunities emerging from the expanding global renewable energy market. In 2020, the sector was valued at $881.7 billion. By 2030, it is estimated that the value will increase to $1,977.6 billion, growing at a CAGR of 8.4%. Renewable energy sources are derived from natural resources and currently provide 7% of the world's energy demand. Although more expensive than traditional fossil fuels, the exploration and implementation of renewable energy sources are necessary to combat the effects of climate change. More governments worldwide have begun focusing on promoting clean energy sources due to increased output efficiency, less pollution, and lower maintenance costs, fueling a surge in demand and in the market's outlook (https://ibn.fm/8yvtq).
For company information, visit the company's website at www.CorrelateInfra.com, including the following:
NOTE TO INVESTORS: The latest news and updates relating to CIPI are available in the company's newsroom at https://ibn.fm/CIPI
About Green Energy Stocks
Green Energy Stocks (GES) is a specialized communications platform with a focus on companies working to shape the future of the green economy. The company provides (1) access to a network of wire services via InvestorWire to reach all target markets, industries and demographics in the most effective manner possible, (2) article and editorial syndication to 5,000+ news outlets (3), enhanced press release services to ensure maximum impact, (4) social media distribution via the
InvestorBrandNetwork (IBN) to nearly 2 million followers, and (5) a full array of corporate communications solutions. As a multifaceted organization with an extensive team of contributing journalists and writers, GES is uniquely positioned to best serve private and public companies that desire to reach a wide audience of investors, consumers, journalists and the general public. By cutting through the overload of information in today's market, GES brings its clients unparalleled visibility, recognition and brand awareness. GES is where news, content and information converge.
To receive SMS text alerts from Green Energy Stocks, text "Green" to 844-397-5787 (U.S. Mobile Phones Only)
For more information, please visit https://www.GreenNRGStocks.com
Please see full terms of use and disclaimers on the Green Energy Stocks website applicable to all content provided by GES, wherever published or re-published: https://www.GreenNRGStocks.com/Disclaimer
Green Energy Stocks
Los Angeles, CA
www.GreenNRGStocks.com
415.949.5050 Office
[email protected]
Green Energy Stocks is part of the InvestorBrandNetwork.