Renewable energy production expanded at an annual rate of 15% between 2011 and 2020, and if this growth rate continues through 2035, renewable electricity will meet 100% of the United States' electricity demand 
In May, California's renewable energy sources briefly generated 101% of the state's energy demand 
Correlate Infrastructure Partners provides access to intelligent efficiency measures, electric vehicle ("EV") infrastructure, and locally sited solar and energy storage
Through its all-in-one platform, the company designs, engineers, finances, builds, and monitors renewable energy (solar) projects for its clients, enabling them to meet ESG mandates as well as save on electricity costs and capital expenditure ("CapEx")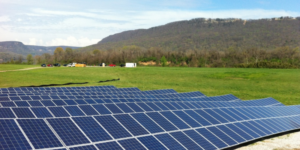 A report by a joint team from Frontier Group and Environment America Research and Policy Center, released last year, reported that the proportion of electricity the U.S. generated from wind and solar increased by about four times between 2011 and 2020. Within that decade, wind, solar, and geothermal power production grew at a yearly average of 15%. And should this growth rate continue, renewable energy is projected to meet the country's electricity demand by 2035 (https://ibn.fm/dD8Xr).
The state of California, however, does not have to wait until 2035 as it broke that record earlier in May, albeit briefly. For 15 minutes, the state's renewable energy generation peaked at 101% of the current energy demand, most of it solar energy, breaking a previous record of 96.4%. And though this does not imply that California was 100% powered by only renewable energy sources – as nuclear, natural gas, and other non-renewable sources also contributed electricity to the grid – the new record marked an important milestone. Against this backdrop, observers now note that stakeholders need to work on ensuring the state runs on 100% clean energy for even longer – a whole day, week, or year (https://ibn.fm/7xa4I).
The need for states and countries to run on 100% clean energy has never been more urgent, particularly in the wake of the Paris Agreement and, more recently, the COP26 summit, which amplified calls to mitigate climate change. At the same time, companies are increasingly supporting environmental, social, and governance ("ESG") initiatives to meet investors' expectations. Combined, these factors have increased the demand for clean energy sources, with Deloitte's 2022 Renewable Energy Industry Outlook report noting that renewable energy growth will accelerate this calendar year (https://ibn.fm/XKH5o).
Correlate Infrastructure Partners (OTCQB: CIPI), a portfolio-scale development and financing platform providing commercial and industrial facilities access to clean electrification solutions focused on intelligent efficiency measures, electric vehicle ("EV") infrastructure, and locally sited solar and energy storage, is ideally poised to help countries, states, and companies meet their desired renewable energy targets, starting with its domicile, the United States. 
By designing, financing, engineering, constructing, and maintaining renewable energy projects, CIPI effectively breaks down barriers to corporate America's ESG and net operating income ("NOI") goals. The company's all-in-one platform incorporates energy experts who develop customized operating strategies that fit clients' needs; a software application that monitors, measures, and optimizes numerous building performance metrics; vendor management; and financing, to mention a few. 
"Correlate identifies cash flow positive energy solutions, designs and manages upgrades, and monitors performance over the long haul," the company's website reads. Even more impressively, CIPI achieves this without requiring its clients to part with upfront fees.
So far, Correlate has deployed this approach in the development of various solar energy projects around the United States. In April, for example, CIPI entered a contract worth more than $2 million for a major rooftop solar energy project in New Jersey (https://ibn.fm/8xu90).
"Corporate America is stepping up their measurable actions to meet investor-driven ESG mandates. And why wouldn't they? It's tremendously profitable for them. In New Jersey, our clients will typically save at least 20% on day one while converting 70% of the facility's electricity use to carbon-free solar energy," said Correlate President and CEO Todd Michaels of the New Jersey project. "With Correlate, customers put up zero capital and simply get cheaper, clean power at a fixed price. That's an infinite return."
Additionally, in May, CIPI announced it had been contracted to install a large-scale rooftop solar project at the headquarters of Continental Envelope (https://ibn.fm/hNKsS).
Through projects such as these, Correlate Infrastructure Partners is not only contributing to the growth of renewable energy but also installing infrastructure that will enable states and the country to generate renewable electricity that meets 100% of their demand.
For more information, visit the company's website at www.CorrelateInfra.com.
NOTE TO INVESTORS: The latest news and updates relating to CIPI are available in the company's newsroom at https://ibn.fm/CIPI
About Green Energy Stocks
Green Energy Stocks (GES) is a specialized communications platform with a focus on companies working to shape the future of the green economy. The company provides (1) access to a network of wire services via InvestorWire to reach all target markets, industries and demographics in the most effective manner possible, (2) article and editorial syndication to 5,000+ news outlets (3), enhanced press release services to ensure maximum impact, (4) social media distribution via the
InvestorBrandNetwork (IBN) to nearly 2 million followers, and (5) a full array of corporate communications solutions. As a multifaceted organization with an extensive team of contributing journalists and writers, GES is uniquely positioned to best serve private and public companies that desire to reach a wide audience of investors, consumers, journalists and the general public. By cutting through the overload of information in today's market, GES brings its clients unparalleled visibility, recognition and brand awareness. GES is where news, content and information converge.
To receive SMS text alerts from Green Energy Stocks, text "Green" to 844-397-5787 (U.S. Mobile Phones Only)
For more information, please visit https://www.GreenNRGStocks.com
Please see full terms of use and disclaimers on the Green Energy Stocks website applicable to all content provided by GES, wherever published or re-published: https://www.GreenNRGStocks.com/Disclaimer
Green Energy Stocks
Los Angeles, CA
www.GreenNRGStocks.com
415.949.5050 Office
[email protected]
Green Energy Stocks is part of the InvestorBrandNetwork.