Louisiana-based Correlate Infrastructure Partners Inc. is a provider of proprietary clean energy assessment and solutions for improving facilities' energy and water use and waste output 
CIPI's Correlate, Inc. and Loyal Enterprises LLC (dba Solar Site Design) subsidiaries are building on a worldwide industrial trend toward environmental, social, and governance ("ESG") factor improvement as governments and scientists express concerns over climate change
Reports by global financial giants Bank of America and Morgan Stanley show an increasing interest in ESG-friendly investments and the potential for profit margin improvement through ESG measure implementation
CIPI's socially responsible platform helps corporate clients improve their balance sheets and do so in an affordable, cost-effective manner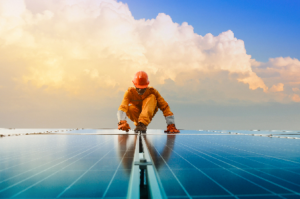 A recent Bank of America analysis of 401(k) plan investments found a large number of eligible employees are not participating in the device for retirement preparedness, but sees optimism in the majority-side percentage trying to save for the future. Notably, the analysis also observed a trend among 401(k) participants in prioritizing "socially responsible" ESG investment (https://ibn.fm/dKdVV).
ESG — environmental, social, and governance — keys in on companies' efforts to balance efforts to grow profits against a moral sense of duty to the earth's climate and its peoples. One primary metric is company transparency on combating carbon pollution through responsible use of water and energy utilities. 
The number of employees investing in ESG funds was 15 percent; a 50 percent increase since 2020, according to the Bank of America 2022 Financial Life Benefits Impact Report. It also found the average amount invested in ESG funds was $13,400 – a 30 percent increase since 2020. But only 11 percent of 401(k) plans provide focused funds for ESG investing, according to the analysis, indicating a possible lack of attention by investment managers thus far on the growth trend among clients (https://ibn.fm/Hgy6C).
Proprietary clean energy assessment and fulfillment solutions provider Correlate Infrastructure Partners (OTCQB: CIPI) is helping companies to boost their ESG appeal and their consumer-directed transparency through Correlate Infrastructures' two subsidiaries, Correlate and Solar Site Design. The companies' platform uses data analysis and development and financing resources to provide advisement to clients on environmental impact reduction and the potential cost savings and profit increases the clients may see as a result. 
Global financial services giant Morgan Stanley's real estate investment ("MSREI") managers estimate that "applying existing technology could generate annual savings in office buildings ranging from $32 million in Philadelphia to $239 million in New York City, thus creating $489 million and $4.8 billion of asset value, respectively," according to a 2016 report (https://ibn.fm/tSWWJ).
The report predicted that growing global populations and climatological concerns will generate pressure on industries worldwide to adopt ESG-related best practices, particularly if governments begin mandating more socially responsible measures. 
"MSREI managers estimate that landlords across the top 10 office markets in the U.S. spend nearly $7.4 billion on utilities each year. The MSREI team believes that a typical office building could reduce these expenses by between 3 and 30 percent," the report stated. "While voluntary systems are opt-in, new regulations create sector-wide pressures on resource use in buildings. … Real estate portfolios that proactively manage sustainability factors have a better likelihood of being well positioned to succeed in an environment of increasing regulatory pressure."
The report observed that "high-quality tenants" demand transparency in ESG-driven sustainability measures and that over 90 percent of the world's largest 250 companies publish sustainability reports with their ambitious goals for energy, water and waste reductions. Correlate Infrastructures' corporate plan is to make it easier for clients to achieve those goals. 
For more information, visit the company's website at www.CorrelateInfra.com, including the following: 
NOTE TO INVESTORS: The latest news and updates relating to CIPI are available in the company's newsroom at https://ibn.fm/CIPI
About Green Energy Stocks
Green Energy Stocks (GES) is a specialized communications platform with a focus on companies working to shape the future of the green economy. The company provides (1) access to a network of wire services via InvestorWire to reach all target markets, industries and demographics in the most effective manner possible, (2) article and editorial syndication to 5,000+ news outlets (3), enhanced press release services to ensure maximum impact, (4) social media distribution via the
InvestorBrandNetwork (IBN) to nearly 2 million followers, and (5) a full array of corporate communications solutions. As a multifaceted organization with an extensive team of contributing journalists and writers, GES is uniquely positioned to best serve private and public companies that desire to reach a wide audience of investors, consumers, journalists and the general public. By cutting through the overload of information in today's market, GES brings its clients unparalleled visibility, recognition and brand awareness. GES is where news, content and information converge.
To receive SMS text alerts from Green Energy Stocks, text "Green" to 844-397-5787 (U.S. Mobile Phones Only)
For more information, please visit https://www.GreenNRGStocks.com
Please see full terms of use and disclaimers on the Green Energy Stocks website applicable to all content provided by GES, wherever published or re-published: https://www.GreenNRGStocks.com/Disclaimer
Green Energy Stocks
Los Angeles, CA
www.GreenNRGStocks.com
415.949.5050 Office
[email protected]
Green Energy Stocks is part of the InvestorBrandNetwork.