Correlate Infrastructure Partners is a portfolio-scale development platform that provides energy optimization and clean energy solutions for North America
CIPI recently entered into a letter of intent ("LoI") to acquire a leading solar, battery storage, and roofing provider
Correlate believes the acquisition will create an unmatched platform for community-scale distributed generation, storage, and virtual power plant aggregation
Aggregated distributed renewable energy offers a sustainable way to decarbonize electricity production, lower costs, and increase the flexibility, resilience, and reliability of the electricity supply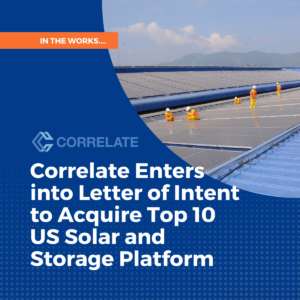 The extreme heat currently devastating large parts of the United States and Europe, attributed to human-induced climate change, has prompted the White House to announce a series of executive actions on climate to address extreme heat, accelerate clean energy, create jobs, and lower cooling costs (https://ibn.fm/X5yMh). The announcement is the latest in a series of government climate-focused releases published. Last spring, the Administration announced a new target for the U.S. to achieve a 50-52% reduction in greenhouse gas pollution from 2005 levels by 2030 (https://ibn.fm/mUYwm). Hitting this target will require a radical shift in how entire sectors, including the energy sector, operate.
Data from the U.S. Energy Information Administration ("EIA") show that the country's electric power sector generated 1.551 billion metric tons of carbon dioxide ("CO2") in 2021, much of it from fossil fuels such as coal (59%), natural gas (40%), and petroleum (1%) (https://ibn.fm/ILCuM). The figure, which accounts for roughly 32% of the total U.S. energy-related CO2 emissions, points to the sector's undeniable contribution to the ongoing climate change phenomenon. And for the country to achieve its reduction targets, something has to give!
The power sector is also plagued with unreliability, which impacts businesses' bottom lines. According to a 2020 report, 79% of companies that experience weekly outages reported they lose an estimated $50,000 per outage. Furthermore, 45% of firms that experience an outage once a week or more noted that their annual loss to outages stood at between $5.2 million and $104 million (https://ibn.fm/Flg54). So, a solution that both decarbonizes electricity production and increases the reliability of power supply will be beneficial in many ways, and Correlate Infrastructure Partners (OTCQB: CIPI), a portfolio-scale development and finance platform, appears keen on providing precisely this going by a recently signed nonbinding letter of intent ("LoI").
Under the terms of the LoI, CIPI is looking to acquire a leading California-headquartered solar, battery storage, and roofing provider focused on selling and constructing solar and roofing services for residential and commercial properties (https://ibn.fm/C4agS). The potentially accretive acquisition, Correlate believes, will create an unrivaled platform for community-scale distributed generation, storage, and virtual power aggregation, collectively known as distributed energy resources ("DERs"). 
"While Correlate continues to innovate its core platform services for commercial properties, we are actively integrating complementary energy service providers that align with our mission and strengthen our regional execution prowess. We intend to create one of the first profitable and truly scalable distributed energy platforms in all of North America that ensures an optimum customer experience long term," said Correlate President and CEO Todd Michaels of the potential acquisition.
As an article in Community Solar News writes, aggregated distributed renewable energy is beneficial in several ways. Built around virtual power plants ("VPPs") that operate as a single power plant and are coordinated using a centralized control system, hence the aggregated tag, such a system helps prevent the excessive buildout of expensive fossil-fuel-powered plants to address peak power demands. This reduces energy costs and pollution. Furthermore, the system is more reliable and resilient because it ensures the power is generated closer to where it is used (https://ibn.fm/0igqj).
And with community solar poised to accelerate the transition to VPPs, CIPI's proposed acquisition is set to create a synergistic and complementary combined company that helps clients looking to be prosumers to set up rooftop solar plants at the community level, extending Correlate's capabilities even further. In April, for instance, the company was contracted to finance, design, engineer, and install large-scale rooftop solar projects in Illinois and New Jersey. The proposed acquisition is also set to further the company's goal of becoming a leading clean energy and grid optimization services platform. 
From an operational standpoint, the target acquisition is expected to provide numerous strategic and financial benefits that add to Correlate's top line and bottom line. A top 10 U.S. solar and storage platform, the target company posted year-over-year revenue growth in its last reporting period. Its unaudited revenues for the year ended December 31, 2021, were $175 million, an increase from $121 million for the year ended December 31, 2020.
Correlate believes the potential acquisition will improve its sales, development, and construction capabilities thanks to the target company's mature distribution network and integrated solutions delivery. Upon completion, potentially in the second half of the year, the acquisition is poised to offer expanded national leadership in key markets, expertise, integrated digital technologies, a loyal user base, cost efficiencies, and aggregation. 
"In this proposed acquisition, we have a partner that has years of successful execution expertise in multiple jurisdictions, including engineering excellence, distributed generation development, energy assessments, and regulatory compliance vital to our next stage of growth," commented Correlate CFO Channing Chen. 
For more information, visit the company's website at www.CorrelateInfra.com.
NOTE TO INVESTORS: The latest news and updates relating to CIPI are available in the company's newsroom at https://ibn.fm/CIPI
About Green Energy Stocks
Green Energy Stocks (GES) is a specialized communications platform with a focus on companies working to shape the future of the green economy. The company provides (1) access to a network of wire services via InvestorWire to reach all target markets, industries and demographics in the most effective manner possible, (2) article and editorial syndication to 5,000+ news outlets (3), enhanced press release services to ensure maximum impact, (4) social media distribution via the
InvestorBrandNetwork (IBN) to nearly 2 million followers, and (5) a full array of corporate communications solutions. As a multifaceted organization with an extensive team of contributing journalists and writers, GES is uniquely positioned to best serve private and public companies that desire to reach a wide audience of investors, consumers, journalists and the general public. By cutting through the overload of information in today's market, GES brings its clients unparalleled visibility, recognition and brand awareness. GES is where news, content and information converge.
To receive SMS text alerts from Green Energy Stocks, text "Green" to 844-397-5787 (U.S. Mobile Phones Only)
For more information, please visit https://www.GreenNRGStocks.com
Please see full terms of use and disclaimers on the Green Energy Stocks website applicable to all content provided by GES, wherever published or re-published: https://www.GreenNRGStocks.com/Disclaimer
Green Energy Stocks
Los Angeles, CA
www.GreenNRGStocks.com
415.949.5050 Office
[email protected]
Green Energy Stocks is part of the InvestorBrandNetwork.